...i attended a friend's birthday party last night and had some red velvet cupcakes for dessert (
which i think is the perfect way to cap a meal after having so much of that roast beef LOL!
)...i have been a fan of red velvet cupcakes for the longest time and whenever i get the chance to visit Sonja in Serendra, red velvet is definitely on top of the order list
...and since we're on the topic of red velvet cupcakes, the best that i had so far was the one from the famous Magnolia bakery in NYC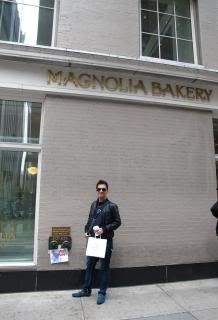 ..the place was packed as usual but i didn't really mind the long line coz i know it will be worth it plus the cupcakes displayed in the rack looked so sinfully good that you just want to eat them all and just forget the fact that they can do so much damage to your hips LOL!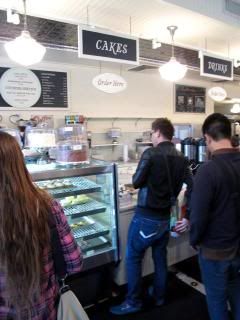 ...Magnolia's red velvet cheesecake has a chocolate cookie crust for its base followed by a red velvet cheesecake layer and topped with whipped vanilla icing..just describing it makes me want to grab one right now!!!
...comparison is easily done once you had a taste of perfection...in this case, i will be waiting for another trip to Magnolia to get a little piece of that cupcake heaven :)