there's a lot of things i'm excited about April and kicking things off will be season 2 of Game of Thrones on HBO and i'm painfully counting the days to fly by to get to April..i have also been running, yes, it sounds unbelievable but i do though not the hardcore type..it's more of a leisure thing and it's the perfect excuse to create a playlist to listen to while running...here's my Top 10
1. Blood for Poppies by Garbage - yes, the goddess is back and hotter than ever!! Shirley Manson is divine and perfection in every inch!
2. Feel so Close by Clavin Harris
3. Shake it Out by Florence and the Machine
4. Pumped Up Kicks by Foster The People
5. Room for Happiness by Kaskade feat. Skylar Grey
6. Gangster Tripping by Fatboy Slim - it's a must to insert a classic piece and this one's way too good to be not on a running playlist
7. Wild Ones by Flo Rida and Sia
8. Collide by Leona Lewis and Avicii
9. Blue Jeans (RAC Remix) by Lana Del Rey - a current obsession
10. Walk by The Foo Fighters
..i got these babies on auto-repeat and follow it with the perfect cool down tracks which serve as a perfect finish to the entire run :)
1. Breathe Me by Sia
2. Poison and Wine by The Civil Wars - their Barton Hollow album is one of my current obsessions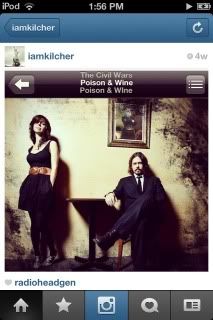 3. Tomorrow Will be Kinder by The Secret Sisters
4. Lego House by Ed Sheeran
5. Flightless Bird, American Mouth by Iron and Wine
...what's in your running playlist?