...i remember about one episode of Sex and the City where Carrie was talking about SSB (
Single Secret Behavior
) which she defined as an action or habit that one indulges in only when alone...this is the reason why i always love Sundays' - it paves the way to do my own SSB...i know most SSBs' put out there in the show were downright embarrassing but mine is i think worth something sharing LOL!
...every Sunday afternoon, usually right after the clock hits 4, i lock myself up in the shower and spend an hour and a half date with these babies...my SSB shower essentials :)
...i always start off with Kiehl's Ultimate Man Body Scrub soap (
not shown in the picture above for obvious reasons
)...this soap scrub is made out of bran and oatmeal which perfectly works on those rough areas (
the elbows and heels
) and it smells very invigorating...i call it the "Fatigue Scrubber"
...Kiehl's Amino Acid shampoo comes next..this baby creates a smooth lather on your hair and made out of coconut oil and amino acids (
i usually don't like the smell of coconut oil but i made an exemption on this one
)
...every man needs a good shaving cream and Kiehl's Ultimate Brushless Shave Cream is the best i've tried so far..i said goodbye to the other shaving cream few months ago..this makes the whole shaving process less of a work and less manly LOL! and leaves your skin moisturized :)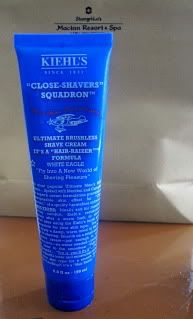 ...Kiehl's Facial Fuel Energizing Face Wash is something that i have been using for a long time and i like the cool feeling it has on my face (
it has to do something with the caffeine and menthol in the mixture
)...true to its name, this one leaves you feeling refueled, reenergized and refreshed :)
...the 2nd half of this lengthy shower routine goes back to doing another scrub...i bought 3 bottles of salt scrubs when i was in San Francisco and it became the perfect addition to my shower routine..this salt scrub is infused with bamboo, rainforest and citrus/basil oils which made the 3-layer salt scrub combo DIVINE!!! :)
...Philosophy's Cinnamon buns is the perfect finisher for this routine...after putting in a lot of refreshing wonders, i like to finish it off with something sweet, silky and ridiculously smooth...this shower gel/bubble bath/shampoo combo smells like freshly baked cinnamon buns..it's sooo good that i literally want to eat myself when lathering it on my skin :)
...after all that, the cherry on this routine is Kiehl's Facial Fuel SPF 15 which i have been using for the past 3 years (
it's something i give credit to for my clear, flawless skin LOL!!!
)...it has the same refreshing effect with the special wash but only better because of its SPF :)
...this is a not a blog about Kiehl's by the way (
but i wouldn't mind getting something from them for whoring them out LOL!
)...i know this shower routine is nothing out of the ordinary and may not come close to what girls do on a daily basis but it's something i have been doing to recharge myself and get me pumped-up for work the day after :)
..what's your SSB friends?