..i have taken my skin care a notch higher and took a short break from using everything Kiehl's (
i only have the facial scrub and shaving cream left, because they were too amazing to give up
)...3 weeks ago, i started using the Clarins Men product line starting with the moisturizer and the foaming cleanser...a bit pricey compared to Kiehl's but it works wonders and i've seen some amazing results :)
...the moisturizer is noncomedogenic which means it doesn't clog your pores, it's also light and non-greasy and easily absorbed by the skin..i was so happy with the result that i decided to get a toner from Clarins as well..funny thing was my Clarins attendant gave me some ab-firming lotions as freebies..either she was being sweet or it's her subtle way of saying i'm fat..i'll remind myself to always wear my Spanx when out LOL!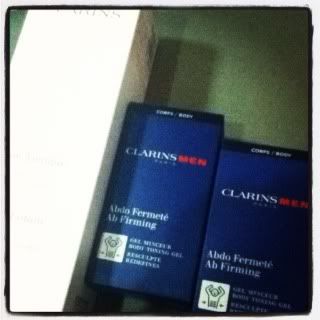 ..i have also taken my perfume selection to a more upscale level by choosing CREED...it's way too pricey for a bottle of perfume but it's well worth it (
one bottle is equivalent to the price of 3 Diesel/Issey Miyake
)..i lean towards fresh, fruity scents so Royal Water is just perfect for me...this will be my scent for summer/spring 2012 :)
...i just needed one more thing before i get back to my usual spending budget, and that is to get this Oxford blazer from Zara..it was love at first sight and lust beyond words LOL!!! my friend from NYC is buying me one and i should be sporting this one off the rack come May..i can't wait!!
...and ow, before i finish this post, who's going to Lady Gaga's Born This Way Ball in Manila? i know it will be awesome and it will be absolute love if i can join the party :)