...i ended up having an unplanned getaway last Sunday when me and my housemates decided to go to Imperial Palace - it's a new waterpark resort and hotel in Mactan...the pictures posted in their website were worth checking out so we went to see the place and plan for a day tour
...the first thing i saw in the carpark when we got their was this beetle that was an exact replica of Herbie...i knew i have to take a picture right away and channel Lindsay Lohan...damn! i left my leather jacket - i'm sure it will make the picture perfect!
...the place was surprisingly HUGE...bigger than my usual fave Shangri-la..and their waterpark was interesting enough that i was instantly turned into a little kid getting excited to try all of the good stuff my eyes have seen...can i just say wet, wet, wet in the most literal sense? I LOVE IT!!!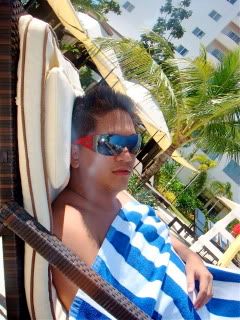 ...we ended spending the night at the hotel...and oh boy, what made it perfect was we were upgraded to a suite room with the same local rate you pay for a regular roomm...i'll say it again...PERFECT!!! hahaha
...and ow, did i mention that the view outside was equally perfect? :)
...i'm now seeing tan lines and i know i'll get much more when i hit Boracay next week...summer's officially starting kids! :)