...i haven't really posted anything new in this site for the longest time
(new pics from the x-mas and new year parties)
all because Globe's DSL service is totally dead...loading up a single picture takes hours to complete
(hope this one gets through - i'll keep my fingers crossed)
...that big quake from Taiwan is the one to blame for this lousy service -
question is for how long????
the service that i got right now is way slower than my old school dial-up before...i wanna call them and rant to the top of my lungs hoping to get a free month of service
(on second thought, that's lame and i may end up to be one of those lousy customers fishing for service credits and that's just pathetic)
...
...i was so excited to load up some pics from new year but the
HELL NO!!!
our house PC was reformatted without me knowing it...
what the f$%#!!!!
...all my audio files, pictures and my most precious-hard-to-find porno stuffs were all gone...this is just so depressing that it makes me wanna lash out and kill whoever reformatted the PC...technically i didn't have a new PC but i got a clean one to start with for the new year...barren...empty...ready to filled up for something juicy in the coming days...good thing i got some archived photos here in this site or else it will all be just in my memory...
...screw Globe...screw my daddy (who made the reformat)...
...it's my year by the way...Year of the Pig...and i'm a water Pig....materialistic, caring, hates generic stuffs - some of the things that i read from a zodiac article couple of days ago...hope 2007's a good one for me...
...haven't made my resolutions complete yet...maybe by the end of the month it will be ready so i still have an excuse to do all the stupid stuff i'm doing now...
...bottomline...i need my fast DSL service back..ASAP!!!


...managed to upload only 2 pics because of this lousy DSL service...some camwhorin' shots taken few minutes before x-mas...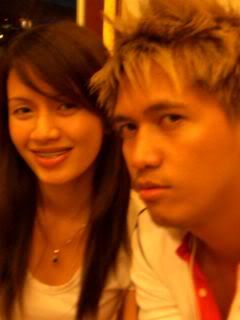 ...more to come soon...can't wait :)