...Mariah fans rejoice and hail the queen!!!

hehehe...yup, Mimi's back and for a taste of what's to come with the new album is one juicy track with Bone-Thugs-and- Harmony (who could ever forget Breakdown?) and with Bow-wow this time titled
"Lil' L.O.V.E."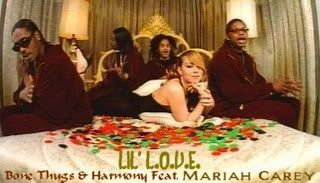 Download the track here babies...and spread the love
Download
Lil' L.O.V.E.
...this will be overplayed for sure in mah ipod...hope it doesn't wear out much once it officially hits the radio...
...enjoy and come sing it with me :)