...i'm still not friends with myself today...hope i'll be kissin' this feeling goodbye before sunday comes...i need a breather :)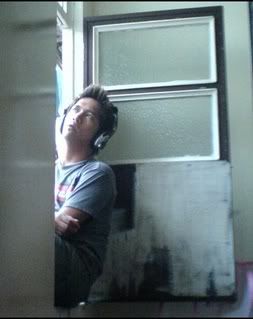 ...i need to see Jude's "Intelstar" play...maybe that can make me happy
and since i'm fuckin' bored...got this game 'round the web...at least i've killed 15 minutes of my time effortlessly...here it goes :

RULES:
1. Open your library (iTunes, Media Player, iPod, Winamp etc.)
2. Put it on shuffle.
3. Press play.
4. For every question, type the song that's playing.
5. When you go to the next question,press the next button.
6. Don't lie and pretend you're cool.
7. When you're finished, tag some other people to do it!
***perfect combo..and press play :) - i miss my 1st iPod baby
------------
A. Opening credits:
When the stars go Blue - The Corrs feat. Bono
[ mushy...wanna dance with future boyfie]
B. Waking up:
Angels (Acoustic) - Jessica Simpson
[ badly need 'em today...i need some saving grace]
C. First Day of School:
Beautiful Things - DJ Tiesto feat. Andain
D. Falling in love:
Lil' L.O.V.E - Bone Thugs feat. Mariah Carey
[can u spend a bit of dough on me]
E. First song:
Love Song - The Cure
F. Breaking up:
The Air that i Breathe - Simply Red
[ aww...this song's sooo nice ]
G. Prom:
You give love a bad name - Blake Lewis
[ heheheh...baduy! ]
H. Life:
Destroy everything you Touch - Ladytron
[ sometimes it happens ]
I. Mental breakdown:
Over it - Katharine Mcphee
J. Driving:
I am, I feel
[ oh yeah, the ultimate cheer up song ]
K. Flashback:
Say it right
[ yihee ]
L. Getting back together:
Don't Speak - No Doubt
[ hush hush darlin' ]
M. Wedding:
I believe in a thing called Love- The Darkness
[ whoaa ]
N. Birth of a child:
Reflections - Jordin Sparks on AI
[ sooo bading! ]
O. Final battle:
Fly Away - Jean Claude Ades
P. Death scene:
Makes me Wonder - Maroon 5
[ pleasure made you cry ]
Q. Funeral song:
I'll stand by You - Carrie Underwood
[ till death do us part drama ]
R. End credits:

As if - Blaque