Hi! My name is Chelsea and welcome to Intelstar!
...i have to admit, this is the first time i ever watched a play in my 23 years of existence - this is sooo not gay, i know! hehehe...i always thought that theater is boring and my attention span for it is that of a 3-yr old kid....but that all changed after watching this play...
...i was invited by a good friend, Jude - who happens to be one suuuper talented biaatchh! hehehe - he's a local TV host, a DJ, a teacher, a writer/editor, an event host, a stand-up comic and more all rolled into one...and as what my friends and I expected, the play was super funny...we already talked about it few months ago over lunch but seeing it played in a stage is soo much better...
***the Star: Jude
...the play's script revolved around an orientation of newbies in a call center facilitated by "Ma'am Chelsea"...a parody of what a usual trainer would do to new hires...exaggerated accent neutralization, super funny call skits and best of all,it's an interactive play wherein the whole audience can get to participate...Eugene Domingo (who is equally funny) and Michael V. previously played the same part, Jude being the third...we we're laughing our assess out the whole time till it ended :)
...it was sooo worth spending extra time up rather than hibernating after work...LOVE IT! :)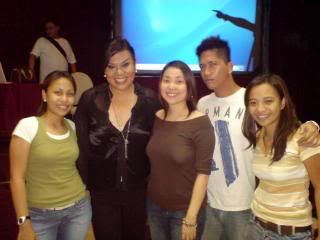 ***the star Jude w/ Sanch, Rochelle, Moi and Sheila :)
...had baby back ribs for lunch then head home...and i still got work later...coffee!!!