...last weekend was just super fast-paced for me, but i think i wasn't the only one...it's the Sinulog weekend so expect the worst when it comes to traffic but when it comes to party...Cebu's the way to go baby :)
...got to sneak out from work to spend the weekend in Cebu, and the first thing i did was to get myself a haircut
(i've been having a bad hair day for the last 4 days)
and went to Starbs after for my caffeine fix
(something that's been deprived from me since I got here...yeah they got no Starbucks here, so i gotta make friends with the coffee vending machine)
...had dinner with Tetet, Ian and Chubaboink and had some carbo overloading...started off with bruschetta then some seafood pasta and some penne with fried zucchinis and eggplants...super yum! and best part about it is that i was able to get a bag of 3 muskeeters when i made a pit stop at the Waterfront...YEY!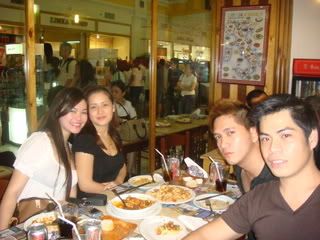 ...went to some posh bar after and mind you i was already more than 24 hours awake but i'm still kickin'...had lotsa dose of different kind of cheeses and caviar and got some Kahlua for the required alcohol for the night...made a few more talks and called it a night...
...was on hibernate mode the whole day of Saturday and started the day late...had dinner with friends from work to catch up on things and then i got myself a good massage and head for dreamland right after..
...did a little bit of sunbathing
(actually that was bit too much)
and few hours of walking to catch the whole Sinulog parade...i'm tired...let the pictures do the talking :)