..i had a very long day earlier that by the time i got home i was totally knocked out...woke up with an aching head and was starving like crazy...now that i'm fed, i can now spill details about it :)
...the original plan was to get a haircut and buy some nose pore strips (i got blackheads and they've been bugging me for the longest time)...since my hair stylist was still not available, i ended having a spur moment of retail therapy...i hate myself...i should be saving for something bigger...oh well
...saw a nice pair of leather shoes in Lacoste, bought it up for dress-up days for work (see i can always justify every purchase) hehehe..too bad the pic didn't do much justice to it...bad camera phone...hate it!
...head to Rustans after and saw that Calvin Klein was on sale...seeing those pro rib trunks half their original price is like lechon on a sunday morning, it is super irrisistable hehe...bought 2 and probably i'd be back for more :)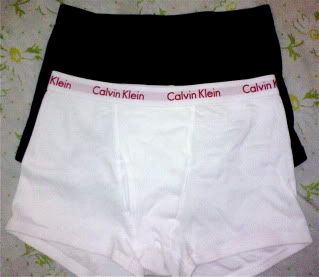 ...had some haircut and bought some nose pore strips (finally!) but before heading home, i came upon a stall that sells knockoff in ear headphones for iPod...Php220 is like your regular order of venti triple shot mocha at Starbucks...so what the hell, i ended buying one..and in fairness to it, it works wonderful, the only questions is for how long? :)
and ow, someone tagged me in Facebook..a lil' something from the bukid :) kilig mode hehehe....love love love!