Where, oh where, can my baby be? the lord took her away from
Me. shes gone to heaven, so Ive got to be good. so I can see my baby when i
Leave this world.
---Last Kiss---

--- this is what i've belted out like I was pavarotti on steroids for one more time at 4:30AM. since its Thanksgiving day in the US and we don't want to put the avail time on the phone to waste, we've set-up
"Rockstar"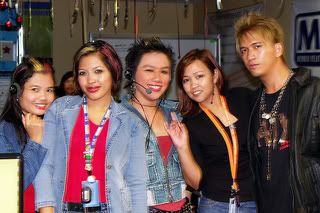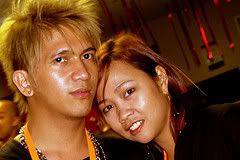 ***with chubby people hahaha!!!
...each team is asked to perform a rock song presentation and as what i've expected i've taken one for the team...i don't know if they are all bunch of untalented agents or they were just too shy to flaunt their talents in the floor or i'm just really that confident enough to muster some guts and take the center stage with a ripped black Armani shirt, some heavyweight leather jacket, acid washed jeans and some Chucks...hehehe
...oh well...thanks by the way to Blenn for the jacket...and to Lory for the necklace...and of course, to Mikee for the cross and for getting me the stuffs i need...i'm gonna give the vodka for sure by the time i'll give you the stuffs back
(gosh...i'm a walking closet of someone else's..depressing...)
...two days more to go and i'm off to the beach again for the leadership GA, oh yes!..AGAIN...goodluck!