...got a lil'nip/tuck moment earlier at Club Ultima and my face was tortured like there's no tomorrow...paint a picture of me with a nose as red as Rudolph's and it's not even funny...
...bought a lil yummy book earlier after i had my diamond peel session at the National Bookstore while trying to check out the new cover of the HP book...it's by Paolo Coelho and it's titled "Like the Flowing River: Thoughts and Reflections "...i've read through the first 10 pages of the book and i'm liking it...much as i liked his old works like the classic "The Alchemist", and "By the River Piedra I sat down and Wept"...
Here's a bit of a synopsis of the book i got from Amazon.com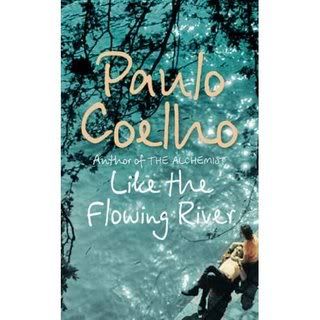 ***the cover's different than what is avail here...we have the better version :) but i'm too tired to take a pic of it..oh wait...here it is...veins galore hehehe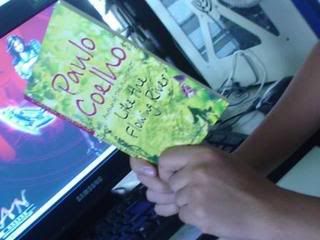 "This is a breathtaking collection of reflections from one of the world's best loved storytellers, Paulo Coelho. In this riveting collection of thoughts and stories, Paulo Coelho, the author of "The Alchemist", offers his personal reflections on a wide range of subjects from archery and music to elegance, travelling and the nature of good and evil. An old woman explains to her grandson how a mere pencil can show him the path to happiness! Instructions on how to climb a mountain reveal the secret to making your dreams a reality. This work presents the story of Ghengis Khan and the Falcon that teaches about the folly of anger - and the art of friendship; and a pianist who performs an example in fulfilling your destiny. The author learns three important lessons when he goes to the rescue of a man in the street - Paulo shows us how life has lessons for us in the greatest, smallest and most unusual of experiences. "Like the Flowing River" includes jewel-like fables, packed with meaning and retold in Coelho's inimitable style. Sharing his thoughts on spirituality, life and ethics, Paulo touches you with his philosophy and invites you to go on an exciting journey of your own."
...gonna be reading this till i get knocked out in my bedpost...oh wait, i remember i don't have one...depressing
...and i gotta's post this for lil' reminiscin'....god i love this show soooo much...and this scene is a classic :)